Catarina Passidomo
Biography | Research | Publications | CV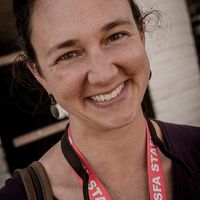 Office Hours
By appointment
Courses
Anth 101 Introduction to Anthropology
Anth 622 Readings in Anthropology I
Geog 101 Introduction to Geography
SSt 555 Foodways & Southern Culture
Biography
I was born and raised in that strange region of the South/Not-South known as Florida. After a childhood spent surrounded by Yankees, I headed North to Virginia to attend a college named after General Robert E. Lee. While at Washington and Lee, in addition to learning I was not from The Real South, I earned a B.A. in Sociology and Anthropology in 2004. My undergraduate thesis examined the connections between early American jazz music and African American identity.
After college, I spent a few years working as an instructor for Outward Bound in Costa Rica and Utah, followed by an apprenticeship on an organic coffee farm in Hawaii. Working in agriculture for a short time discouraged my aspirations of becoming a farmer myself (too hard), so I decided to study food, rather than grow it. I earned a M.A. in Environmental Anthropology from the University of Georgia in 2009. My masters thesis investigated social capital within a network of local food producers in Athens, Georgia. My doctorate in Human Geography, also from UGA, was an ethnographic study of food justice organizations in post-Katrina New Orleans.
I gleefully joined the faculty of the University of Mississippi in 2014, with joint appointments in Anthropology and the Center for the Study of Southern Culture.
Research
My current research and teaching goals are closely aligned; I am interested primarily in studying food systems to better understand and contest broader social systems and phenomena. Through work with my students and the Southern Foodways Alliance, I am investigating the connections between the food system and: migration between the Global and U.S. South; structural racism; economic inequality; and demographic and culinary changes in the American South.
My research interests include African diaspora anthropology, historic sites management, historical archaeology, museum and heritage studies, and southern studies. I more specifically explore how African American pasts are represented in the present.
Selected Publications
The following is a list of selected publications. A full list of publications is listed on my cv.
2014. "Whose right to (farm) the city?: Race and food justice activism in post-Katrina New Orleans." Agriculture and Human Values 31 (3): 385-396. doi:10.1007/s10460-014-9490-x
2014. Yuki Kato, Catarina Passidomo, and Daina Harvey. "Political gardening in a post-disaster city: Lessons from New Orleans." Urban Studies 51 (9): 1833-1849. doi:10.1177/0042098013504143
2013. "Going 'beyond food': Confronting structures of injustice in food systems research and praxis." Journal of Agriculture, Food Systems and Community Development 3 (4): 89-93. doi:10.5304.jafscd.2013.034.009
2013. Hilda Kurtz, Amy Trauger, and Catarina Passidomo. "The contested terrain of biological citizenship in the seizure of raw milk in Athens, Georgia." Geoforum 48: 136-144. doi:10.1016/j.geoforum.2013.04.006
2012. Amy Trauger & Catarina Passidomo. 2012. "Towards a post-capitalist politics of food: Cultivating subjects of community economies." ACME: An International E-Journal for Critical Geographies 11 (2): 282-303.