Sociology and Anthropology Student Ambassadors
Cecelia Pullman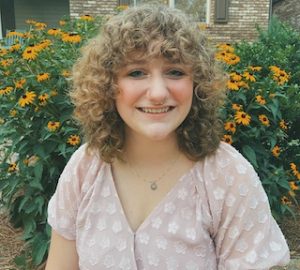 Cecelia is an anthropology student with a sociology minor and plans to work in human resources. A successful student, she has been on the Chancellor's Honor Roll. Cecilia has volunteered or interned in her community, including the New Albany Main Street Association/Union County Heritage Museum and the county library.

Why did you choose to attend UM?
In my senior year of high school, I toured many universities, but they didn't compare to the University of Mississippi. The campus is beautiful, and I love the layout. It is aesthetically pleasing and attracts unique and passionate students and professors—this was obvious from the first moment I stepped on campus. I cannot think of a better place to further my education in anthropology.
Have you found a mentor among your professors?
I have enjoyed my experience with each sociology professor I have taken classes with, as their diverse fields of research offer great perspectives on sociological theories and perspectives!
When and why did you choose your major(s)/minors?
I have been set on majoring in anthropology for quite some time. The major has endless career options and is all-around interesting. I chose to minor in sociology in the latter part of my freshman year. I chose this minor because I felt, and my advisor felt, it is a perfect pairing for my major.
What is your career goal?
My career goal is to be a part of a human resources department, which is essential to almost all companies and businesses. The responsibilities that come with this career make me excited to graduate college and enter the workforce.
Is there a professor who has been particularly helpful to you?
Dr. Marcos Mendoza has helped me become knowledgeable and passionate about the field of anthropology. His classes were the highlight of my freshman year and I look forward to learning more from him and others like him.
What has been a particularly meaningful way you have engaged in a community—either on or off campus?
This summer, I had the opportunity to be one of the four interns at my county's main street association. Being a part of this association meant teaching weekly classes to the community's children at the local library. These classes involved activities that required direction and assistance. Through these projects, the other interns and I witnessed really bright, young minds. It was an amazing experience that made me feel connected to my community and hopeful for the future.
What are your hobbies and interests outside of school?
My favorite thing to do outside of school is crochet. I started quite young, and it has been a creative outlet for me ever since. It is a relaxing and fulfilling hobby.
What are you binge-watching/reading/listening to?
King of the Hill. I love how it parodies the South and makes light of the issues we Southerners face.
Sara Grevy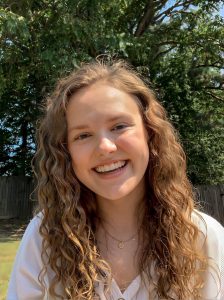 Sara is pursuing an anthropology major with a museum minor, with courses such as Digital History, Archaeology, Cultural Anthropology, Anthropological Theory, Human Osteology, and Studying Ancient Artifacts. An honors student, she is on the Chancellor's List and has been part of the Anthropology Club and Anthropology Honors Society. Sara is a college readiness tutor in the local Oxford library and a student worker at the Mississippi Law Research Center.
Why did you choose to attend UM?
I chose to attend Ole Miss because of the atmosphere and programs. After touring, I fell inlove with the campus and what itoffered.
When and why did you choose your major(s)/minors?
I chose my major a couple of months before I started at Ole Miss. When I was looking throughprograms, anthropology stood out to me and offered everything I wanted. I have always been interested in studying other cultures and times, so anthropology seemed to be a good fit. I chose my minor a semester ago because  museum studies aligned with anthropology and what I would like todo.
What are your career goals?
I would like to work in a museum or other academic related facility doing research in the field of anthropology orarchaeology.
Have you had an experience that made you feel empowered at UM?
I don't think there has been exactly one moment that made me feel empowered, but rathermy experience as a whole. I have felt encouraged and supported in my academic endeavors through professors and the HonorsCollege.
What will be your legacy at UM?
I want my legacy to be that I cared about my community. I don't believe that my legacy has to be something monumental or life-changing in order to leave an impact. Doing and enjoying the little things in life, whether academic or social, is important and leaves its ownimpact.
What are you binge watching/reading/listening to?
I am binge watching Downton Abbey, Blacklist, andMedici.
What are some dream travel destinations (and why)?
One of my dream travel destinations are the Scottish Highlands. I went to Edinburgh a few years ago and absolutely loved it, so I would like to go back and see more of the country. The Highlands have lots of castles and beautiful scenery that would be amazing to explore.
Bee Paul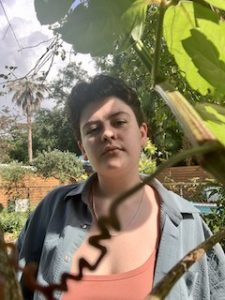 A sociology major with a minor in biology, Bee has been active trying to make a difference in the world around her. She is a leader with Students Against Social Injustices, a regional organizer for United Students Against Sweatshops, a member of Uprooted & Rising, United Campus Workers, UM Solidarity, and the Pride of the South Marching Band.
Why did you choose to attend UM?
I chose UM because I wanted to move out of state (Texas!) but wanted to remain in the South and found great scholarship opportunities here. I chose to stay at UM after my first year because I found a community within the Department of Sociology and Anthropology that made me feel at home and gave me hope for the work I can do in the future.
When and why did you choose your major(s)/minors?
I was originally pre-med with a biology major and chemistry minor, I decided to switch to a sociology major with a biology minor during my sophomore year because I realized that I don't want to be in school for 5+ more years, I want to use my sociology background to organize in the community I live in as well as work to make healthcare accessible to everyone, not just those who can afford it and are deemed worthy of care by our current medical system.
What are your career goals?
After graduating I plan to become a certified EMT and move to New Orleans, where I hope to continue doing community organizing and medical work for a few years. In the future I hope to return to school to gain more medical training and a better understanding of our society in order to continue transforming our current medical system.
Is there a professor who has been particularly helpful to you?
Dr. Minjoo Oh, Dr. John Sonnett, Dr. Amy McDowell, and Dr. Willa Johnson have been incredibly impactful during my time in the sociology department. They push me to challenge myself to find solutions to the problems I see in the world.
What has been a particularly meaningful way you have engaged in a community – either on or off-campus?
I have been organizing within Students Against Social Injustices (SASI) since Fall 2019, and the work we have done to combat systemic oppression on campus and in the LOU community will impact me for the rest of my life. We do mutual aid work like the Really, Really Free Market, organize protests against injustices in the community, and encourage political education through our winter and summer break reading groups! I love the connections I have made with community members and students, and hope to see SASI's legacy continue to grow for years to come.
What do you like to do outside of school (hobbies, interests)?
I am a regional organizer for United Students Against Sweatshops this semester! This means I get to meet with students on other campuses in the south to encourage them to utilize student power on their campuses to promote change. I also love watching sunsets and sunrises, especially on top of the many parking garages in Oxford and at Sardis Lake!
What are you binge watching/reading/listening to?
I just finished bingeing The Good Place and HunterxHunter. Currently listening to Lil Nas X and Doja Cat on repeat.