Patrick Speer – Alumnus Spotlight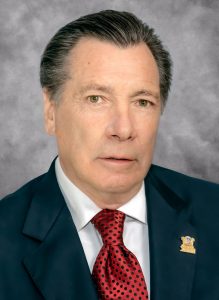 Executive VP of Business Development and Marketing, Corporate Sports Marketing
BA in Political Science & Sociology (1972)
LinkedIn
Patrick Speer is a marketing executive in the sports and entertainment industries.  His experience includes working with national and international sporting events such as the Super Bowl and Winter Olympics, working with sports teams, and with individual athletes. Speer provides a summary of his career below, which showcases the leadership skills that UM graduates are well known for developing.
Tell us about your educational/career path since college.
I am a marketing executive in the sports and entertainment industries with extensive experience in marketing, corporate partnership, branding, sales, and strategic planning. After serving as CMO for Super Bowl XXX in Phoenix I created a partner-funded sports, entertainment, and event consulting firm located in Salt Lake City and New Orleans as EVP of Business Development and Marketing for Corporate Sports Marketing (CSM). In my current position I direct marketing strategies and efforts to strengthen the company's market position, manage budgets, and negotiate athlete endorsement, corporate sponsorships, and branding for clients.
My previous positions included Director of Sales & Advertising for the New Orleans Jazz of the NBA; VP of Promotion and Sales for the Concert Company; VP/Director of Marketing for the Birmingham Stallions of the USFL; and VP Corporate Affairs, Marketing and Advertising for the Miami HEAT of the NBA.
As the first executive hire of the Miami HEAT, I was tasked with meeting the financial thresholds set by the NBA league office in order for a franchise to be awarded. These included broadcasting rights, partnership agreements, season ticket sales as well as premium seating in addition to suite sales. Responsibilities included producing advertising and promotional campaigns in order to meet these goals. Miami and Charlotte, NC, were awarded the NBA's first new franchises in the amount of $32 M. In Forbes latest annual valuations of professional franchises in the NBA,  NFL,  MLS and MLB the Miami HEAT franchise was valued at $2.2 billion, a number that has increased significantly with the recent sales and acquisitions in the NBA and NFL alone.
As VP for Marketing ProServ, Inc., I negotiated endorsement agreements on behalf of clients including Michael Jordan, Pete Sampras, Andre Agassi, Muhammad Ali, and Nancy Kerrigan. I consulted with management on the Organizing Committee for the Winter Olympics in Salt Lake, and have represented or negotiated on behalf of clients including Adidas, Bacardi, Ford Delta, Southwest, Gatorade, McDonald's and other NBA and NFL franchises.
After Hurricane Katrina I spent a year in California and had the good fortune to be introduced to three time Super Bowl winning Coach Bill Walsh. He was kind enough to allow me to sit in on the business and development meetings at Stanford University while they were constructing their new football stadium and also participate in their executive education program.
What do you see as the value of studying political science and sociology?
I think sociology provided me with a better understanding of the importance and structure of society and our individual roles. As I studied political science I found some similarities between the two. When I began to focus on international relations under the tutelage of Dr. Bhagat, I viewed countries and those cultures in a like manner. International relations dealt with the complexities and interactions of nation states in working towards a civilized geopolitical system much as the individual did in a personal context in sociology.