Brian Foster, Ph.D.
Biography | Research | Publications | CV | Personal Website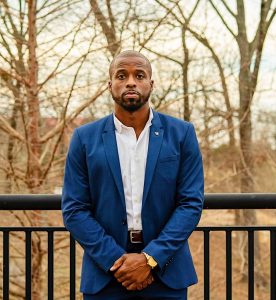 Office Hours: By appointment
Courses
Soc 414 Race, Place, and Space (cross-listed as AAS 414, GSt 414, SSt 314)
SSt 101 Introduction to Southern Studies
SSt 102 The Southern Protest Mixtape
Biography
Dr. B. Brian Foster is a writer and storyteller from Mississippi. He currently holds a joint appointment in sociology and southern studies. He earned his Bachelor's Degree in African American Studies from the University of Mississippi in 2011, and both his Master's Degree (2013) and Ph.D. (2017) in Sociology from the University of North Carolina atChapel Hill.
Research
Brian studies and writes about race and place—with special emphasis on questions and stories of racial stratification, regional development, placemaking, and culture. His scholarship has been supported by the National Science Foundation and American Sociological Association. Most recently, Brian's work has focused on black communities in the "Delta" and "Hill Country" regions of Mississippi. For instance, his book I Don't Like the Blues: Race, Place, and the Backbeat of Black Life(University of North Carolina Press, 2020) tells a story of Clarksdale, Mississippi, chronicling the town's recent inclusion of blues tourism in its economic development plan and, for the first time, noting the dismayed response that that commitment has stirred among black residents.
Teaching
Brian's teaching coalesces around three thematic areas: race, place, and ethnographic methods and writing. Some of his favorites include "The Race Maps"; "'Sipp"; "Graph"; and "Mississippi Jukebox."
Public Sociology
Brian has a longstanding interest in public sociology—which he calls, "a way to talk and listen to folks beyond the academy." He has written for several popular outlets, including Washington Post, CNN, Bitter Southerner, Mississippi Folklife, and Oxford Magazine. He currently serves as Director of the Mississippi Hill Country Oral History Collective, and is a frequent collaborator with artists and documentarians on projects in which race and place are central themes.
Selected Publications
Foster, B. Brian. 2020. I Don't Like the Blues: Race, Place, and the Backbeat of Black Life. Chapel Hill, NC: University of North Carolina Press.
Foster, B. Brian. 2014. ""Everybody Gotta Have a Dream": Rap-centered Aspirations among Young Black Males Involved in Rap Music Production." Issues in Race and Ethnicity: An Interdisciplinary Global Journal 2 (2): 25-47.