Amy McDowell
Biography | Research | Publications | CV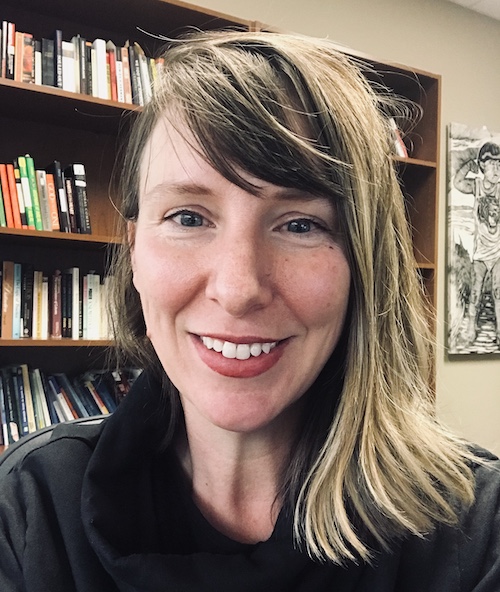 Office Hours
By Appointment
SOC/GST 325 Sociology of Gender
Soc 336 Sociology of Religion
SOC/GST 425 Religion, Gender, and Sexuality
SOC 619 Religion, Gender, and Sexuality 
Biography
My childhood roots are in Mississippi, but I spent my youth in Pensacola, Florida where I discovered the energy of punk rock music shows, experiences that influenced my fondness for sociology. In my early 20s, I left the Southern U.S. to finish my B.A. in Sociology at the University of Colorado-Colorado Springs and then later earned my Master's Degree and Ph.D. in Sociology at the University of Pittsburgh. I joined the Department of Sociology and Anthropology at the University of Mississippi in 2014 and I am an Affiliate of the Sarah Isom Center for Women and Gender Studies.
Research
My research centers two interrelated questions: 1) How is the so-called religious/secular binary blurred through everyday practices of religion?; and 2) How do everyday practices of religion reinforce or challenge social hierarchies of race, gender, and sexuality? My previous research examined how U.S. Christian Hardcore and Taqwacore ("taqwa" means God consciousness in Arabic) youth use punk music to create space for religious expressions that defy religious and social conventions. My current research uncovers how evangelical Christians keep progressive ideas and people out of sight, and out of mind, at church. In addition to these research activities, I am the Director of Queer Mississippi, an oral history interview project that seeks to document and preserve LGBTQ history in Mississippi. To access interviews in the collection, visit eGrove, the University of Mississippi's digital repository.
Teaching
The courses I teach focus on the intersection of inequalities with a concentration on how religion, race, gender and sexuality shape who we are, what we think, our struggles and our opportunities. Students can expect discussion-intensive classes that prioritize qualitative research and big ideas from sociological and feminist/queer theory.
Selected Publications
2020. Burke, Kelsy and Amy McDowell (equal co-authors). "White Women Who Lead: God, Girlfriends, and Diversity Projects in a National Evangelical Women's Ministry." Sociology of Race and Ethnicity 7(1): 86-100.
2018.  McDowell, Amy.  "'Christian But Not Religious': Being Church as Christian Hardcore Punk." Sociology of Religion 79 (1): 58–77. doi:10.1093/socrel/srx033
2017. McDowell, Amy."Aggressive and Loving Men: Gender Hegemony in Christian Hardcore Punk." Gender & Society 31(2): 223-44. doi:10.1177/0891243217694824
2017. McDowell, Amy.""This is for the Brown Kids!" Racialization and the Formation of "Muslim" Punk Rock." Sociology of Race and Ethnicity. doi:10.1177/2332649216647747
2014. McDowell, Amy. "Warriors and Terrorists: Antagonism as Strategy in Christian Hardcore and Muslim 'Taqwacore' Punk Rock." Qualitative Sociology 37 (3): 255-276. doi:10.1007/s11133-014-9279-7